Apartment rental with terrace in the heart of Madrid
Our little gems: Penthouses with extraordinary views of the city skyline.
One-bedroom apartments with terrace, with an occupancy of 2 to 4 people and between 56 and 68 m².
They are fully equipped and have everything you need as well as impressive views of the Madrid skyline.
For business, my partner and I usually travel a lot and we had always gone to hotels, I had never stayed in this type of apartment and the truth is that we liked this feeling of independence. Furthermore, the treatment by the staff has been perfect. Congratulations.
I spent a few days in Madrid with my family and we decided to stay in these apartments because I saw that they were in a very good area. After the experience I am happy to affirm that we were not wrong. The Gran Vía is next door, and very close to Sol, the Royal Palace, the Almudena... we were able to see the city without using the car and without taking long walks, totally recommended.
We stayed for a week in one of the apartments and we really liked the location, the central area, full of shops and things to see. The apartment was very clean and well furnished. The best is the friendliness of the staff. The guy who checked us in was very professional and friendly. We will return for sure!
It has been a pleasure to be able to stay here for 6 months for work reasons. Highlight the professionalism, kindness and closeness of all the staff, always ready to resolve any request or demand. As for the facilities, they are in a perfect state of maintenance and comfort. They don't miss any details. Excellent staff, facilities and service.
I decided to contact you, although I was not sure. It is very difficult to choose a place to live for a long period of time, without seeing the qualities of the apartment in situ and without any reference from anyone. However, after that first telephone contact it was clear. "I'm going to try" The treatment received convinced me and now I know that the decision was the right one.
Because of my work I usually stay in Apartments very often and I have already had some negative experiences. The websites usually show excellent photographs and when you get there you are very disappointed. The opposite happened to me with you, the surprise was very pleasant when I checked the condition and quality of the apartment.
The truth is that dealing with Antonio is excellent, he is always very attentive to everything and has been very kind and close from day one. The design of the apartments is very good and the renovations that have been carried out at the entrance of the building and the reception add great value to this property. In case the feedback about my stay helps you.
Communication with bus and metro is fantastic. To get to the Prado through line 2, the metro is two minutes away in Plaza de España, the Cerralbo Museum is 5 minutes away, near the Senate, the Royal Palace, Gran Vía and a 10-minute walk from the Plaza Mayor. The apartment has a stove, microwave, refrigerator... Parking is inside the building. Detail of water, juice and coffee capsule upon arrival. I would return to visit Madrid again.
Located in one of the best connected areas of Madrid. Extraordinarily comfortable, clean and functional apartments, with everything you need to live a normal life like at home. The perfectly equipped kitchen, towels, huge living room with dining table... The WiFi 'was going like a shot'. We find details such as coffee capsules, juices or mineral water. Very friendly and cordial staff and parking in the same building.
The apartment is beautiful and very spacious. It is very well located, in Plaza de España next to Gran Vía. Everything is close at hand. It is decorated with taste and elegance and the living room is huge and very bright. The truth is that it is so beautiful and comfortable that we didn't even feel like going out! It was very clean, white bedspreads, clean sheets and towels... When we return to Madrid we will return to these apartments without hesitation.
Unbeatable location, I hardly needed to take transportation, I went everywhere on foot. Apartments with everything you need to feel at home. I will repeat for sure.
Spectacular apartment. Well located and spacious. The managers are spectacular, very friendly and professional.
I stayed with my wife and son for 5 nights on the 9th floor. It was a perfect stay thanks to the attention and excellent communication with Antonio! The apartment is very comfortable, everything was neat, the furniture very well arranged, the location is wonderful and a spectacular view! Check in and check out very easy. Super recommended!
Special discounts for stays from 4 / 7 / 10 months.
Check our prices and conditions for stays of less than 1 month.

Our apartments with terrace offer all the comforts of the Premium apartments with the extra of being able to enjoy spectacular views from the apartment's terrace.
They are an excellent option not only to feel at home in the center of Madrid, but to enjoy a unique and unforgettable stay, thanks to views that will leave you fascinated.
All our apartments with terrace offer:

Book now your apartment with terrace in the heart of Madrid

Check our prices and special conditions for long-term stays.
The Madrid Plaza Apartments are located at Plaza de España number 6, a minute's walk from Madrid's emblematic Gran Vía and with excellent communications that allow you to be close to everything.
In addition to countless monuments, very close to your apartment you will have all the leisure you can imagine and a little more.
We want you to feel at home
Our commitment is to make your stay in Madrid an unforgettable experience, ask us what you need.
If you don't find what you are looking for, we have these other options

Up to 4 people · 56-68 m²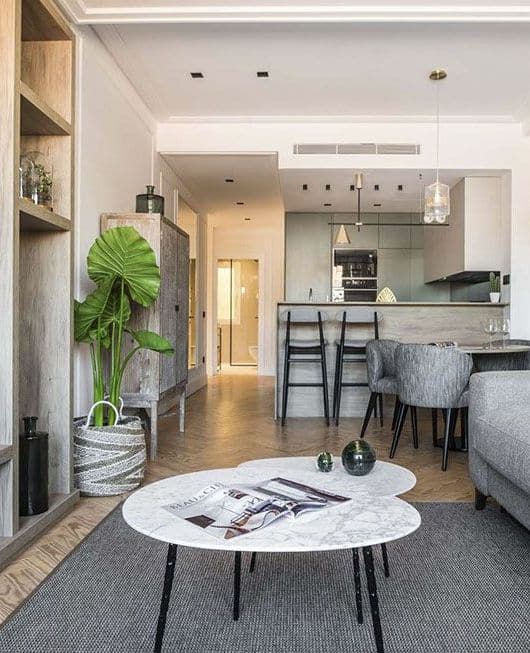 More exclusivity in more space
Up to 4 people · 62-65 m²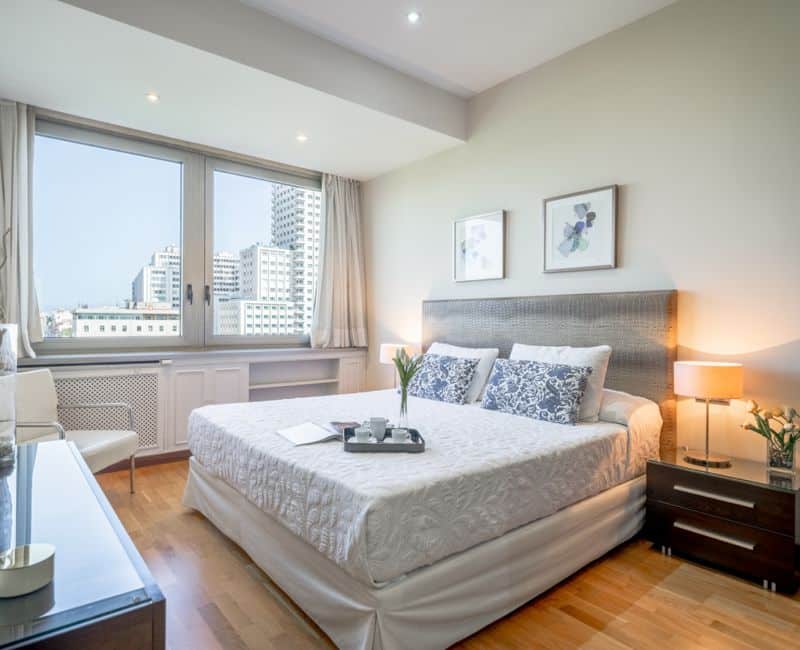 Our jewel of space and good taste